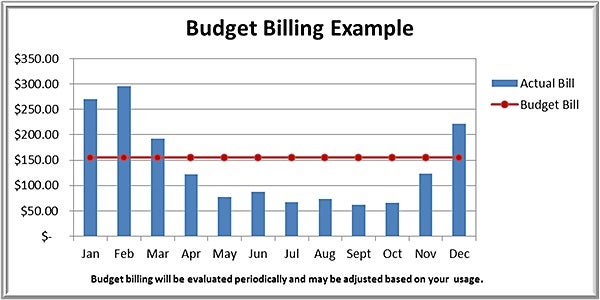 Is your electric bill higher in some months and lower in others?  
This is the case for many members due to seasonal factors and heating/cooling costs. If you have a good payment record and at least 12 months of billing history at your current residence, Budget Billing can help you manage your utility costs.  The average kWh usage for your household during the previous 12 months will be used to calculate your budget amount.

To qualify for Budget Billing a member must be current on their bill, have at least 12 months service at the current location, and must have no late penalties, returned checks or insufficient ACH payments for the past 12 months.  Members also agree to pay the catch-up amount due in May of each year while on the Budget Billing program.

Members can discontinue enrollment in Budget Billing at anytime.  However, once traditional billing is reinstated, any charges on the account become due according to the normal due dates.

If a member becomes delinquent while on the Budget Billing program, Se-Ma-No Electric reserves the right to remove the member from the program.  If a member is removed from the program, any outstanding amounts will be due under regular payment terms.

Eligible members should enroll in the month of May.  If you are interested in Budget Billing or just have questions about the program, please contact our office at 417-924-3291 or email gswisher@semano.com.